WIAW #12 – Another pie + a dinner with friends <3
September 4, 2013 in Dessert, Friends, Oatmeal, Running, WIAW by Julie
Good morning! Is it chilly where you are this morning? Well, I can definitely say that it feels like Fall here today. Please note that I won't complain though
As much as I love summer, I love Fall! Pumpkin spice lattes, pumpkin everything, boots, cozy sweater, chilly outdoors runs, reading a good book with a coffee in hands while it's chilly outside… You get the picture
But for now, let's take a look at my WIAW.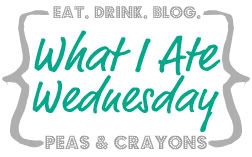 Are you as excited as I am to see pictures of the chickpea?! I. Can't. Wait.!!
5:00 am Hot water + lemon
Can you believe that I actually woke up at 4:30 am yesterday? And no, it's not because I was working! I was awakened by Brooklyn who apparently did not feel safe by not sleeping in his cage (Louis decided to make him sleep on his little bed, in our room). He barked every time he would hear a noise outside. And as we sleep with our window open, you can imagine the scenario. And with my boyfriend who also got out of the bed at 4:35 (at least it's because he was working) I've been unable to fall back asleep and got up at 5:00 am.
For a strange reason, a cup of coffee didn't seem appealing to me at all, so I made myself a cup of hot water with 2 slices of lemon instead.
Hot water with lemon is a good way to deal with an upset stomach (happens to me pretty often) and I would love to make this a regular habit and trade my morning coffee with that but, let's face it, it's not gonna happen
At 6:00 am, I decided to go for a run. Let me tell you that running outside at this hour was a first for me and I've absolutely loved it! It was cooler and it was more quiet. Somehow, it felt more peaceful. It was also raining, which I, surprisingly, loved! Minus the fact that my glasses were all wet, I was feeling good! I ran a little over 3 miles.
After a more than needed shower, it was time for breakfast!
7:30 am Oatmeal + chia seeds & berries
Stovetop oatmeal sounded like the perfect breakfast yesterday. I wanted to add some fruits to it but I didn't have any fresh fruits on hand (I know, I reeeeeeally need to go grocery shopping). I've add some frozen berries instead and it wasn't bad at all! I've also sprinkle some chia seeds on top for my daily dose of omega-3!
Believe it or not, this breakfast kept me full until lunch time! Wowzers! Talking about lunch, I was craving a salad at that time. Iceberg lettuce to be specific! It's better than a chocolate craving, right?!
12:00 pm A big nice salad & zucchini fries!
I've add pollock, half an avocado and ranch dressing to the iceberg lettuce and it was so so good! Ranch dressing is definitely my favourite dressing but I try not to eat it too often because it's definitely not the most healthy choice! Ranch was also my dipping sauce for these zucchini fries
I had to go downtown for a meeting at the gym in the afternoon. Once I got there, one thing was on my mind. One thing that has actually been on my mind for what seem like for-e-ver! A PUMPKIN SPICE LATTE! I made sure to order the biggest size, just in case it was as good as I remembered. (and it was
)
1:45 pm Starbucks PSL
I was a happy camper!
After my meeting, I was so exciting for my next activity: a dinner with my girlfriends
It's been a good month since last time I've saw them so I was more than ready for that dinner to happen
Take a look at this baby girl. Isn't she the most adorable thing?!
This is Jade and her mommy; my friend Evelyne (who is a RD —> I'm so jealous
)
And this is our other girlfriend, Marie-Noelle: (sorry for the blurry pic!)
We started the night with a good white wine (my parent's favourite and definitely one of my fave too!)
Evelyne made us a delicious half-vegetarian lasagna! It was so so good!
And we finished the night with a coffee and a slice of …..
This pie was yumm-o! Not too sweet and surprisingly kind of healthy! (minus the crust I'd say
) I'll make sure to get back to you with the recipe soon! It was the perfect way to end up an amazing evening with great friends!
I wish you a wonderful Wednesday
Question:
Did you like Starbucks Pumpkin Spice Latte? Did you have one yet?
Do you prefer summer or fall?