WIAW #11 – Can I have some more pie please?
August 28, 2013 in Dessert, Famiy, Fun, Recipe, WIAW by Julie
Hello and good morning to you all! How is the week treating you so far? Well, may I just say that it has been one whirlwind of a weekend here! As mentioned  in a previous post, some of Louis's extended family was in town from the US this weekend, and lots some family reunion/party were hosted. I was so happy to finally be able to meet everyone. Let me just say that one thing is for sure about Haitians people: they are fun and so welcoming! Even though yesterday was the first day we didn't have anything planned with them since friday, I had SUCH a good time and feel so blessed to be part of such a beautiful family. P.S. The food was amazing too
Here are some pics:
This is me with Louis and his mommy
This is Regine's, (Louis's cousin) baby. Cutest. Baby. Ever. Period.
After few days of not-so-clean eating, it's time to get back on track! And it's time for WIAW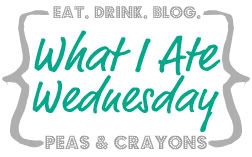 Here is what my day looked like yesterday:
5:30 Coffee with almond milk
Same old, same old but always much much needed when I wake up so early! I also sipped on a second cup all morning long in school!
8:00 Protein smoothie
I made this smoothie before leaving home for the day and I drank it when I was finished with my workout at the gym. Here's what went in the mix: frozen mixed berries, almond milk, chia seeds, orange greek yogurt and 1 scoop of whey vanilla powder. I don't have any exact quantities to share with you because I always eyeball it. If it's too thick, I simply add a little bit of water. The smoothie did his job and kept me almost full until lunch time.
My workout consisted of a 3 miles run. I took 3 small walking breaks (if I'm not mistaken) and ran at an average pace of 6 mph. Since school started, my priority is to get back into an early morning workout routine, so I keep things kind of easy and simple for now. It still felt like a nice sweating session nonetheless!
Have you guys already seen that kind of foam roller?
Well, if you do see it soon, STAY AWAY! Holly molly! That thing calls pure torture, especially if you have ultra tight muscles like mine! It doesn't even compare to the "regular" foam roller. I swear I would have prefer running another 3 miles instead of foam rolling my outer thighs one more minute!
10:00 Celery sticks + spinach dip
During a 10 minutes break at school I munched on these babies. Last sunday I bought a small container of spinach dip while grocery shopping. I think I forgot how much I like that dip! I also had 2 sticks of mozzarella cheese with that.
12:00 "Crab" and strawberry salad with ranch dressing
That salad screams summer! It's tasty and so easy to make. It was nice outside yesterday so me, Tara and Jessica (some of my best friends at school) ate outside for lunch. The best part of it all was definitely the piece of S'mores Pie I had for desert! Holy yum! I made it on Sunday and everyone loved it! I just HAVE to share the fun with you guys!
Recipe from Tasty Kitchen.com
Ingredients:
1 stick Softened Butter
½ cups White Sugar
1 whole Egg
1 teaspoon Vanilla
1 cup Flour
1 cup Graham Cracker Crumbs
1 teaspoon Baking Powder
7 ounces, weight Container Of Marshmallow Creme
8 whole (1.55 Oz Bars) Hershey's Chocolate Bars
1 cup small marshmallows
¼ cups Chocolate Chips
Directions:
Preheat oven to 350°F and spray a 9″ pie pan with baking spray.
In a large bowl beat butter and sugar together until combined, then add egg and vanilla and stir them in. Stir in flour, graham cracker crumbs and baking powder.
Divide the dough in half. Press half the dough in the bottom and up the sides of the prepared pie pan. Evenly spread the Marshmallow Creme over the bottom crust. Separate chocolate squares and place on top of the Marshmallow Creme. Place 1 cup of marshmallows on top.
Using the remaining crust, pat sections of dough on top of and around all the marshmallows (they will still show through and that is great!). Sprinkle with 1/4 cup chocolate chips, then bake 20 minutes until lightly browned.
Remove pan from oven and set it on a wire rack. Cool completely before cutting.
I'm telling you, that recipe is amazing. Rich and chocolate-y, just how we like it! You have to give this a try!
16:00 Ice cream!!!!
As if my little piece of pie (I swear it was little!) wasn't enough for my sweet tooth, I just couldn't resist the envy to dig in some Half Baked Ben & Jerry's ice cream once I got home (anyone's surprised here?!) At least my portion was quite small!
19:00 Pasta with leftovers
I was alone for dinner yesterday so I didn't want to invest a lot of time in cooking. I've basically reheated some sautéed zucchinis that I had in the fridge, some baby tomatoes (that were marinating in balsamic vinegar since Sunday —-> the best!) and some pesto. I added the mix to some cooked spaghetti, sprinkled it with parmesan cheese and called it dinner. It was ready in no time and tasty! I ate it while doing some reading from a class I had yesterday.
I also had 2 pieces of chocolate and a glass of shiraz while typing this post in bed at night! Talk about a nice way to finish the day
Questions:
What's your favourite pie or dessert?
Do you foam roll regularly?